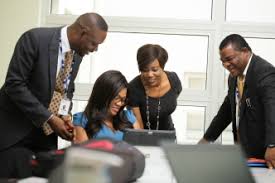 PERSONAL WORKPLACE EFFECTIVENESS
Personal workplace effectiveness influencing others to act is considered by many thought leaders to be an essential part of any business professional's tool kit. This dynamic interactive training course is designed to stretch and challenge your current thinking on how to influence those around you.
Participants will learn how to manage themselves better and plan better – both personally and strategically. They will also understand how they can handle their workload in a more efficient manner, manage their work relationships more productively, and effectively deal with problems and challenges. This course will enable them to ultimately assist the organization that they work for in the best way possible. This seminar explores the science and practical application of influencing others drawing from the work of many experts combined with the course tutors personal experience and expertise.
This  workplace effectiveness Training course will highlight:
The Relationship between Emotional Intelligence and Influencing
The Power of Negotiating Win-Win Outcomes
Techniques to help you structure a compelling proposition
How to deliver an award-winning Presentation
The Importance of Building an Organisation Support Network
Objectives of workplace effectiveness
At the end of this workplace effectiveness training course, you will learn to:
Learn how to manage their emotions and energy better
Study ways of efficiently managing their responsibilities;
Plan to achieve vastly improved relations with seniors and colleagues;
Focus on working to free their time by reducing wasteful activities;
Consider effective ways of improving their work processes;
Develop their abilities to make higher quality decisions;
Learn how to cope more effectively with their work environment;
Gain insight into issues that can both hinder or assist workplace effectiveness and productivity;
Learn a range of personal productivity and effectiveness enhancement tools and techniques for immediate application.
 Workplace Effectiveness Training Methodology
This training course will involve a high level of participation facilitated by the course tutor using a range of proven blended learning methods which ensure all delegates learn in a safe yet challenging environment. All Adult learning styles are accommodated using a range of mediums including; skills application, case study critique, peer feedback, completion of a personal profiling tool, individual and group exercises.
Organizational Impact
Companies that invest in the development of soft skills – communication skills- tend to be market leaders but also tend to have higher levels of employee satisfaction and morale.                                                                   
This training course will help delegates develop their personal communication skills, which will, in turn, enable employees to be more effective in their day to day work
Delegates will be shown the importance of building strong cross-functional relationships which will improve organizational efficiency and workplace effectiveness
The ability to negotiate outcomes that both parties feel are valued is integral to winning and maintaining long-term business partnerships. This training course shows delegates how to do just that
By providing employees with the opportunity to explore a range of business and personal workplace effectiveness skills in a safe learning environment, companies are fulfilling their obligation to help their employees give the best of themselves at work
Personal Impact
By learning how to Influence others by using a wide range of tools, delegates will not only be more productive and therefore more effective in their job roles but will also gain greater confidence and wellbeing in their business and personal lives.
You will learn the key role of Emotional Intelligence in building long-lasting business relationships
You will complete your own personal profile to enable a greater understanding of your own personal behavioral style
Each delegate will have the opportunity to practice the application of a range of communication tools, give and receive feedback from their peers
Delegates can expect to negotiate using a range of case studies thereby exploring concepts and themes to embed learning
You will learn how to structure and deliver a best in the class presentation which will deliver outstanding personal and professional results
Who Should Attend?
This training course is aimed at Business Professionals who want to re-enforce their existing skills and build a new layer of expertise that will help them be more in control of their business discussions. It will also benefit those who wish to communicate and present their ideas more powerfully.
This training course is suitable to a wide range of professionals but will greatly benefit: 
Senior Business Leaders
Project Managers
Anyone who supervises or manages a team
Business Professionals who have a specific need to communicate and negotiate more effectively
 workplace Effectiveness Course Outline
DAY 1
Personal Inter Communication Skills
Defining Influencing and Persuasion
The Science of the Change Curve and Your Role in Influencing Others
Overcoming workplace effectiveness silos
Exploring the Barriers to Effective Communication
How does the Brain work in the Communication Process?
Setting up an integrated workplace effectiveness
Understanding How People filter Information
The Relationship between Emotional Intelligence and Building Powerful Working Relationships
The Importance of Non-verbal Communication when interacting with others
Completion of Own Personal Profile
DAY 2
Effective Influencing Skills
Understanding the Communication Cycle
Introduction to the Influencing Model
Effective Time and Stress Management
Stakeholders management
Work-life Balance
The Critical Elements of the Influencing Model explained and demonstrated
The Key Skills of How to Listen Effectively
Asking Questions to Understand the other parties perspective
Structuring a Strong and Compelling Argument
The Importance of Flexibility when proposing a Solution
Influencing Decision Making at Work
How to Use Decision-Making Tools in Practice
DAY 3
Delivering a Presentation Effectively
Understanding the Key Components of Delivering a Memorable Speech
The 5 P's of Preparation Explained
The Importance of Structure when Preparing a Presentation
Introduction and Use of the INTRO Formula
How to Use your Voice Effectively?
Exploring the Role of Body Language when Presenting
Top Tips on How to use PowerPoint
Discover the Power of Illustrations and Stories
Learn How to Control Nerves before Delivering a Vital Speech
Using the Personal Vocal Checklist